Headmaster of Kinran Senri High School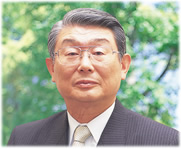 Ken Tsujimoto
Foreword
Kinran Senri High School is a private six-year school with about 900 students,both boys and girls. Each grade has 5 classes and the number of students in each class is limited to about 30. Ours is a very small school, compared with other secondary schools in Japan.
Our aims:
To develop good living habits so they can study effectively.
To cultivate good sportsmanship by offering various athletic activities and events.
To develop their love of nature through hikes and camps.
To widen their international perspective by giving them occasions to come into contact with other cultures; we feel young people,in the 21st century should play important roles in the international society, not just in Japan.
To prepare students to lead highly cultivated lives in the future by helping them appreciate the works of the world's greatest artists.
To help them decide what future course to take, according to their individual talents and abilities.
We realize these aims through our own unique methods.
Let us illustrate:
As for our learning method, we give them a 20-minute test every morning. This is a review test to help them form the habit of learning voluntarily every day; we believe the term examination system, usually used in other schools, results in students engaging in overnight cramming. Our daily test also enables us teachers to evaluate our teaching methods and way of conducting our class. As for sports, soccer for boys and volleyball for girls, are designed as the eschool sports.' They spend six years practicing them and developing their skills, so they can take part in games not only as players but also as@referees. As for nature appreciation, we provide a three-day camping trip in a enatural' setting. We also have students take part in a hike in the Minoo mountains. We give them an opportunity to learn at a traditional public school in U.K. to promote cross-cultural understanding. It also helps students to better understand their own culture. As a result of this six-year education, more than half of the students who graduate from our high school gain admission to top national universities.
To conclude, we define Kinran Senri High School as a eDojyo' or a eGymnasium' where students can receive both mental and physical training. We hope you will apply to study at our school in order to develop your strong character and good study habits that will serve you well in the 21st century.